Being an orthodontist is about putting individual patient's interests at the forefront.
Rather than making decisions for patients, I walk each through their condition and treatment options. After thoroughly answering their questions, each of my patients has the knowledge needed to make an informed decision about their orthodontic treatment.
Once their plan is designed, my patient, team, and I undertake the treatment journey together, working toward the shared goal of a beautifully healthy, confident smile!
~ Dr. Marta Baird
Education and Experience
With a mother who is a general dentist, and having had a wonderful orthodontic experience herself, Dr. Marta Baird naturally gravitated to the orthodontic specialty.
Following dental school, Dr. Baird practiced general dentistry while teaching at the dental school and completing a 27-month orthodontic residency at UOP. In 2011, Dr. Baird received her Certificate in Orthodontics and Masters of Science in Dentistry (MSD); she was the recipient of the Arthur A. Dugoni Excellence in Research and Scholarly Activities Award, and ranked at the top of her class academically.
Dr. Baird was in private practice, as an orthodontist, for five years. She then decided to return to teaching, at UOP, in order to give back to the school that helped her fulfill her passion, and to surround herself with the leading experts in the orthodontics specialty.
Dr. Baird is the Co-Course Director for Invisalign® for the orthodontic residents, Director of Invisalign Selective for Pre-doctoral dental students, and Co-Course Director for Principles in Orthodontics. Additionally, she is Adjunct Clinical Faculty in the Resident Orthodontic Clinic, where she teaches Invisalign and braces.
In all positions, Dr. Baird focuses on teaching clinical excellence through efficient and thorough diagnosis, treatment planning, and mechanics.
Professional Affiliations and Continuing Education
Dr. Baird is board-certified by and a Diplomate of the American Board of Orthodontics. She is also an active member of the:
In addition to completing more than 100 hours of continuing professional education each year, Dr. Baird participates in two local study groups.
Dr. Baird is enthusiastic about utilizing the latest digital technologies, combined with leading-edge techniques, to best serve her patients. Through active and ongoing professional education, she ensures each patient receives the best orthodontic treatment available, with predictable, beautiful results.
Beyond the Practice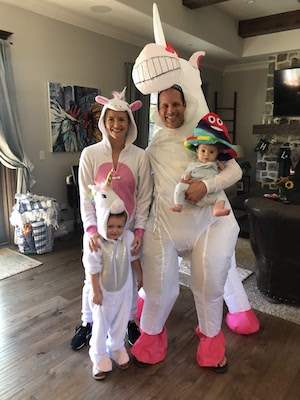 Dr. Baird resides in Pleasanton with her family: husband Simon, children Emily and James, Bailey their dog, and Basil their cat. You'll often find the family enjoying time together around Pleasanton: at Bay Club, Downtown, and visiting with friends.
Among her many hobbies, Dr. Baird enjoys watercolor painting, acrylic pouring, photography, polymer clay art, jewelry making, and knitting. She also likes vegan cooking and baking, hiking, and backpacking, but time with her young family comes before all.